Since I said awhile ago that I need to stop apologizing for slacking around here only to slack again...how about a gift as an apology? Lucky timing on my part really since this has been planned ;)
I have become friends with Monique over the past few months via the internet. Don't you just love that? She has helped me test patterns, I bounce ideas off of her, and whenever I have someone looking to purchase a ready made hat I send them her way because I totally trust her workmanship and she has a great personality to boot! Can't beat that!
Check out some of her stuff!
adorable right?!?! I am going to let her introduce herself and her business now...
"Hi fellow crafters and craft lovers. My name is Monique and I am the person behind The Little Knitter Boutique.
I am a stay at home mom of three of God's little angels…..Wesley, Gavin, and Elliana. They are 5, 2, and almost 1, which as you can imagine keeps me very busy.
I have always loved crafting so I thought why not make my "hobby" a job, if you can call doing something you love a job. I love making cute little hats, knee knockers, and bows for children of all ages. My hope is that my little business will turn into a career and allow me to continue to stay at home with my sweet angels. Have fun looking at all my creations and good luck winning this cute little owl hat!"
That's right! Monique is going to be giving away one custom made owl hat! You pick the size and color and she will whip it right up and send it your way! You know you want one!
Contest begins NOW and ends at 11:59p Wednesday night...ok, I'll give you until midnight
Winner will be announced Thursday.
Ready to enter? There are plenty of ways so everyone should be able to find at least 1 way they can join in!

You can enter 1 way or every way, just be sure to leave a separate comment for each entry!
3. Follow
The Little Knitter Blog
4. mention this giveaway on your facebook; be sure to leave your link
5. blog about the giveaway; again be sure to leave your link
6. Don't want to wait to win?? See something you just HAVE to have? Buy something today and get 5 entries!
Go back to
The Little Knitter Boutique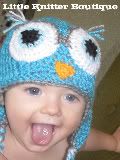 want an extra entry or two?
Follow the
Oxford Fam
or tell me if you already do
Fan us on
facebook
; Monique has the majority of our patterns. Just because you don't see it doesn't mean she can't do it...Just ask her!
and just to leave you drooling...a few more pics!
all professional pics that are not visibly watermarked are courtesy of Cloud 9 Photography
Now get busy entering!