Hi all! As mentioned earlier today its Post It Note Tuesday! If you are looking for the giveaway one post down!
SupahMommy explains Post It Note Tuesday best on her blog. To get there and play for yourself click on the post it...she sums it up
"Why bother wasting your breath, spewing verbalness... when you can simply sum it all up in one neat n tidy little post it note."
Love it!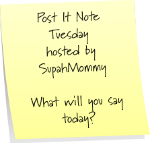 Now let's get started...