You know that saying, well it applies to blog world too! I am not sure if you remember a few months back in this Wanna Make it Wednesday post about this cute purse and...
.....the Handmade Holiday Challenge that The Boy Trifecta is hosting on her blog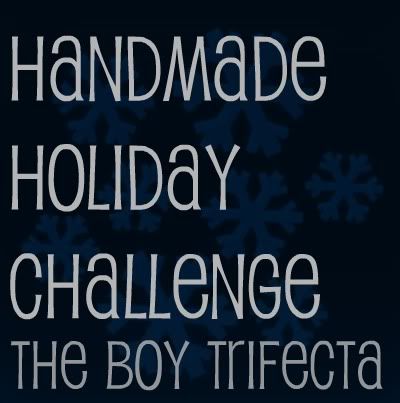 ANYWAYS.... randomly enough Emily (the woman behind Boy Trifecta) not only followed me, but had purchased patterns from me before! She had ordered 10 patterns not even knowing how to crochet yet! Can you believe it!?!? I had contacted her about some advertising and she told me that she had bought from me before, needless to say the dots all were connected and my little heart was all warm and fuzzy in this small blog world! We had already encountered each other but didn't have a face to put to a name or any reason to think much about it! So Emily is officially a bad ass and is now a crochet whiz! She made this hat for her Sawyer, yeah, she is extra cool in my book because she has an adorable Sawyer too! Now, I am desperate to make one of these for my Sawyer! Wouldn't he rock it?!?!
Well, I wish I could sit here and say I have a bunch of handmade gifts whipped up BUT I don't :( I did finally do one last weekend and it was even for one of my own kids! Awwe yeah! Unfortunately it is for the one child that occasionally hops on my blog so I can't share with you quite yet but know that I am working on them! Next up, a superhero cape for my nephew that doesn't blog ;) I also hope to get to a few more soon! I feel like I am finally getting my post baby groove back...today anyways, no promises for tomorrow! Now to get my hook and black yarn so I can get this hat on my SJ's head!
If you haven't head over to The Boy Trifecta, grab a button, link up your projects/tutorials and check out others!